NDI App Review
NDI is one of the fastest-growing, most innovative technologies in the broadcast industry. NDI is becoming the new standard in broadcast productions, and if you have not started using it in your church, you are missing out! Read More Articles About NDI
Uses For The App
Have you ever wanted to get that awesome shot of a baptism or wanted to get a mobile camera in your production? Look no further Newtek solved this problem for us too! Now you can wirelessly transmit video from your mobile device to any device or computer on the network. Pretty amazing stuff, right?
Set-Up
This app is the definition of plug and play. All you have to do is click the big, white button on the bottom of the screen, and your device's camera will be available for any device on the network as an NDI input.
There are some limitations though, we noticed that the app seems to quickly drain our battery and it makes my phone run hot so probably needs to be used on a higher-end device. Also, a strong wifi signal is needed or optimally a direct cat6 line (supported by some devices via adapter) in order to be able to output a low latency, high-quality signal.
Another thing to remember is that the NDI app only uses NDI HX, which is the lower quality version of NDI. That is due to the limits of a mobile device's processing power and also since most users will be using it over wifi.
Optional: Gimble Stabilizer
If you plan to use your device like a mobile camera, it would be a good investment to purchase a mobile device gimble stabilizer. Phone gimbles are relatively low in price and can make a world of difference when carrying around your phone camera.
A few I recommend are the DJI OSMO Mobile 3 ($139) and the Zhiyun-Tech Smooth-4 ($99). Both are by quality brands and will provide an intuitive user experience for even untrained camera operators.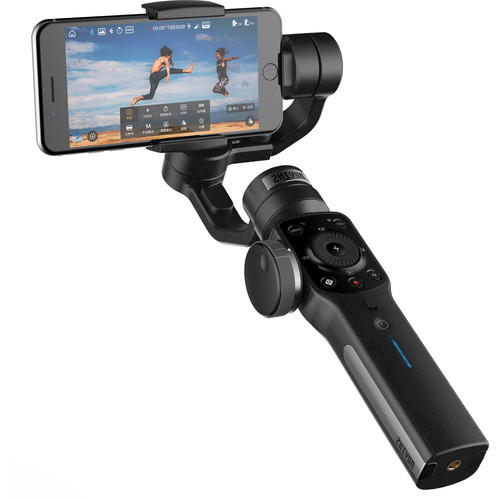 Using The NDI Signal
Adding an NDI source to vMix is as simple as setting up the app! Just go to Add Input> NDI / Desktop Capture and select your device. It's that simple!
Downloading The App
The official NDI App is available on both Android and IOS for about $20.00.
Sienna also makes an IOS app for only $10.00 but is not yet available for Android.