$6000 Church Live Streaming Setup (Updated 2023)
In this church live streaming gear list, we are going to cover the best live streaming setup you can create for $6000.
Last updated January 1st, 2022.
Many people are frequently asking what gear they need to start live streaming their church services. They usually receive answers ranging from "You shouldn't stream at all!" to "You need to spend $100k+ to start." In this gear list, we are going to cover the best live streaming setup you can create for about $6000.
Switcher
Maybe you have heard that software isn't as good as hardware, and in some cases, that is true. Many app-based software solutions are nothing more than consumer electronics (hint, hint: SlingStudio) that, in my opinion, are not suitable for creating a reliable quality production. However, don't let a few bad apples spoil the bunch. Both vMix and OBS are very capable of handling production workloads and are reliable programs that have innovative features when configured properly. OBS is open-source software that, while it is excellent for what you pay for, has its limits, so we are going to be using vMix HD, which costs only $350 one time. It's well worth the investment.
You can purchase additional years of vMix updates for $60 per 12 months. It's not a subscription and includes all major version updates and minor updates. You're not getting locked in with anything like the infamous Telestream tax that Wirecast users are plagued with. You only have to buy updates when you want them and are never punished for not keeping up your subscription.
Now that we have that out of the way let's get into the technical ability of vMix, what PC you'll need to run it, and how much it will all cost.
Computer
First, let's cover what we will run it all on. In this gear list, we are trying to stay under $6k, so to understand what vMix needs to run, let's visit their reference systems page. There they list all their recommended hardware. One of the laptops they recommend is the Lenovo Legion 5. This laptop runs at about $1200 on B&H. It should work great for our needs. If you can find one with more ram it would probably be worth the upgrade.
Optimally a desktop computer is better suited for streaming, but due to chip shortages, GPU (graphics processors) are hard to find resulting in inflated scalped prices.
Watch vMix's video about laptops here.
Find all of vMix's recommendations (including desktops) here.
Software
Now we need to purchase vMix. I recommend churches use the HD version because I believe it's the perfect balance between price and features. vMix sometimes gives away a limited number of licenses to churches, so it is worth filling out the application form. If you don't hear back from them by the time the 60-day trial period is up, you can purchase vMix HD here for $350.
vMix allows you to do a slew of things that usually take $$$$$ in gear and giant broadcast facilities to produce. Some of those included in vMix are:
Theoretically up to 1000 cameras
Fully NDI compatible on all versions
Pre-recorded video playout
Audio file playout
Multichannel audio interfaces (including digital mixers such as the X32)
PowerPoint
Web browser input
Multi bitrate streams to up to 3 destinations simultaneously
Record to your computer
Virtual camera output to other programs such as Skype or Hangouts
SDI outputs for IMAG
Built-in title animation software
Digital zooming
Chroma and Luma Key
PC and Mac desktop capture via NDI Scan Converter
vMix Call
Delay and instant replay
A built-in audio mixer that includes, EQ, gains, noise gates, limiters, VST3 support, and more
4:4:4 32bit color correction
Waveform and Vectorscope monitors
Four independent overlay channels
Web and mobile app control
SRT In and out
MIDI controller support
And much much more
Convinced vMix is the best by now?
Now that we have our computer ($1500) and software ($350), we are ready to move on to our encoder.
Encoder
Wait, I thought you said we could stream to 3 different destinations with vMix? Yep. I did, but there are a few things you will need to be able to stream without as many interruptions as possible.
Fast Internet
A slow or spotty internet connection can kill any production no matter what you are using. So make sure you have plenty of upload bandwidth to cover the bit rate you are streaming at and also allow room for other devices to do things such as moderating comments. Other than having the right internet service provider, there are a few things you can do to improve your connection.
#1 Having a hardwired cat6 connection. Wifi is often unreliable and inherently due to technical limitations can't provide as good of a connection as ethernet.
#2 Having up-to-date network hardware. One of the biggest killers is having old and slow routers, network switches, or trying to use wireless. To stream and use NDI, you will need to make sure your network is up to modern standards. I recommend the Unify Dream Machine Pro if your network is in need of an upgrade. It provides great small business features with an easy-to-use interface.
#3 Restricting access. Yeah, I know it isn't always possible, but when it is possible, you want to be on a dedicated network and have a dedicated internet connection to keep other people from hogging up your speed. If people have their phones or other personal devices connected to the network it will slow things down for everyone.
Stream Setup
It is vitally important to make sure you have your stream settings appropriately configured. First you'll need to choose a destination. We recommend Facebook and YouTube because they both are free and provide your viewers with an easy and familiar way to watch. Wherever you choose will provide you with the settings your encoder should be set to. For example, here are Facebook's recommendations, and here are YouTube's recommendations. You can also simplify this by using the API, (aka presets) within vMix, which allow you to configure your stream directly in vMix and not have to worry about encoder settings.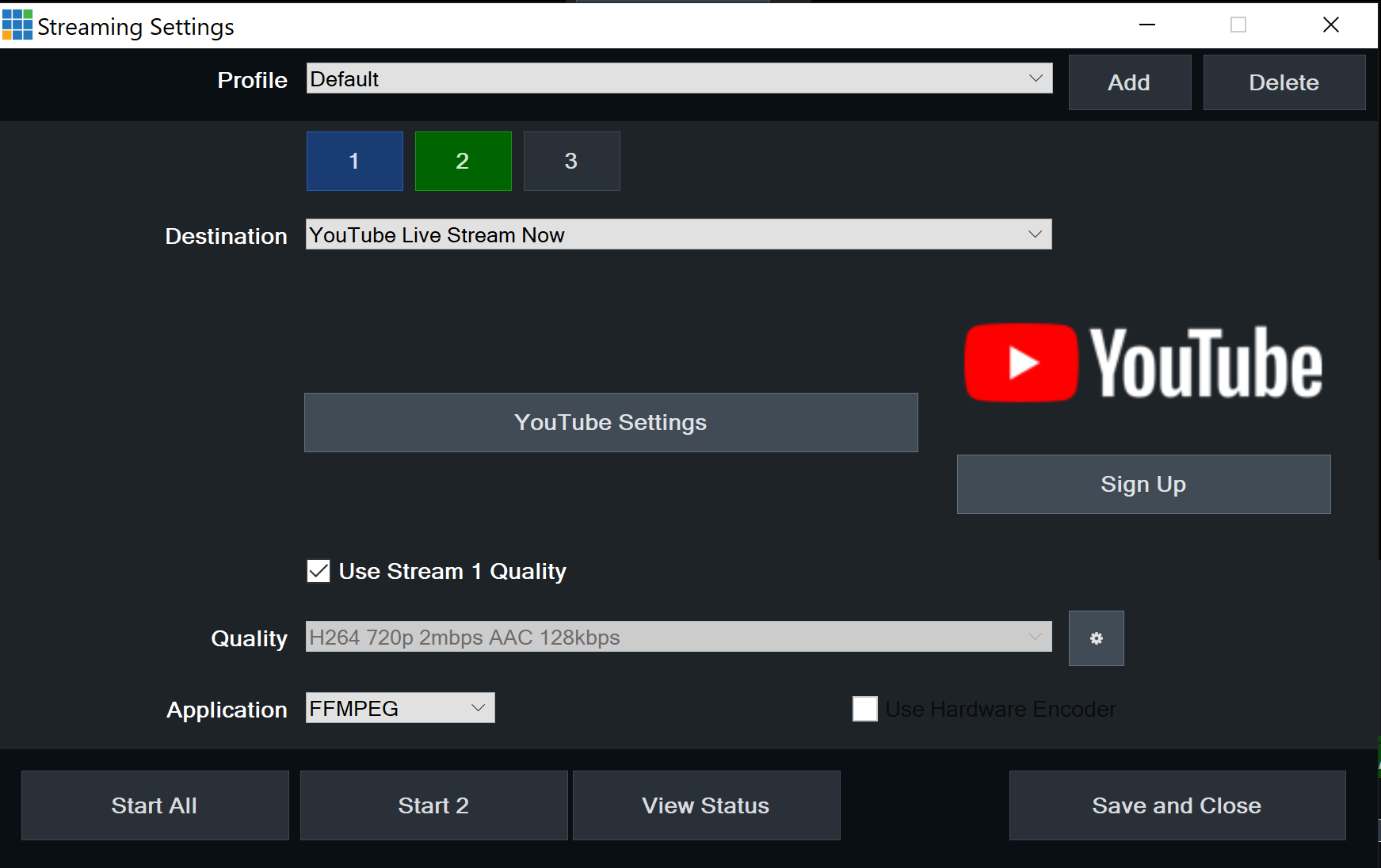 Cameras and Inputs
We are starting to get somewhere. Now it's time to find some cameras. For this gear list, we are going to go with the BirdDog P100 ($1599/each) PTZ camera, the BirdDog PF100 Zoom camera, and the BirdDog PTZ controller ($1495). Both are 100% full NDI and NDI|HX compatible, which allows you to easily control and capture your camera all over IP, therefore, eliminating the need for running tons of extra wires and buying capture devices.
If you have a higher budget, I highly recommend upgrading the PTZ to the P200 ($2799), which brings with it a lot of all-around image quality improvements.
ProPresenter Capture
Often you want to display a sermon title, Bible verse, or overlay lyrics on your live stream. Traditional systems make that hard, but vMix has a solution. With the advent of ProPresenter 7, there are now a few ways to do this. We will cover both the old and new ways.
Pro6: You can set up a separate computer running Pro with the master/slave module and have a green background. After getting the signal into your traditional hardware switcher, you can key out the green background and end up with transparent overlays. That's a lot of work and pricey.
Pro7: Now, with Pro7, you don't have to do that. Now you can send slides with a transparent background directly from your main Pro computer using NDI. Pretty sweet, right? But there is more.
Pro6 and 7: With this easy-to-use script, you can bring text directly from your Pro output into vMix as a text title that dynamically updates. I think this is the best solution because it allows your broadcast team to have complete control of the fonts, shadows, and sizes of your text. But sending directly from ProPresenter with NDI isn't a bad solution either as it's unlikely you'll need to be making styling changes mid-service.
Any Presentation Software: The final option is to use NDI Screen Capture. All the other options have focused on getting transparent lyric overlays into your live stream. This option brings in an exact copy of our screen output into vMix. To use it simply run NDI's Free Screen Capture tool on Mac or Windows, and then as long as both machines are on the same network, you can add the screen capture as a source in vMix via an NDI input. I recommend doing this alongside options 2 or 3 because NDI Screen Capture can efficiently run in the background and be used to capture anything on your screen (such as Keynotes or PowerPoints).
Audio
Now let's discuss what is possibly the most essential part, sound. There are two main purchases to bringing in audio for streaming. The old way, which allows you to bring in audio off of an analog sound mixer, and the new way, which allows you to bring audio out of your digital audio mixer.
Digital Mixers: Most modern digital sound mixers have what's called a USB DAW output. This allows a computer to bring in all of your sound board's audio inputs as computer audio inputs eliminating the need for an audio interface and therefore saving you money. 💲 It won't cost you anything other than a USB cord to connect your vMix computer to your sound mixer.
If you are already using your USB DAW output to go into a DAW for real-time effects and/or recording don't fear! NDI Tool has yet another free tool called NDI Audio Direct. This tool allows you to send audio over NDI using a VST3 plugin.
Audio Interfaces: I have used the BEHRINGER U-PHORIA UMC1820 ($279), and it works great if you need to bring in more than one audio channel, but if you just want one, the smaller UM2 ($50) works as well. For best results, take a mix bus off your sound mixer into the audio interface. You may want to include some ambient mics in the crowd to help make everything feel in person rather than distant. Once you get your audio into vMix, you will want to play around with the audio settings to find what works best for you.
Control Surfaces
Especially if you are familiar with hardware switchers, you will want a tactile control surface so that you can easily control vMix without having to constantly be moving the mouse back and forth. Here are a few I recommend:
BEHRINGER X-TOUCH MINI $79
The Behringer X-Touch Mini is a compact version of Behringer's popular X-Touch control surface. The mini is perfect for vMix due to its small size and fader that works as a t-bar. With the mini, you get thirty-two layered light-up buttons, eight control nobs, and two faders, all of which are contained in 2 easy to toggle layers. There isn't a better controller at this price range that can do all that the x-touch mini does. You can give yourself the same tactile controls that are found on a traditional switcher while controlling modern software. 🎥
X-Keys XKE-124 Video Switcher Bundle $899
The X-Keys t-bar video switcher bundle strongly resembles a traditional hardware switcher feel and allows operators easy control of virtually everything they will need in production. You can customize your controller to how you want to. It is for sure an investment but something I think is going to be worth it if you're looking to build a permanent system.
Roundup Summary 🤠🐎
Our Gear
That adds up to a total of $6168 USD, plus wiring and mounting supplies. If you have a bit more to spend consider adding a second PF120 or P100 to give yourself a third camera angle.
Summary
As you can see, a vMix system provides unmatched versatility, affordability, and simplicity. Gone are the days when we needed whole rooms full of gear to stream; now we just need a laptop and an internet connection.
Prices are current at the time of writing. The view expressed in this article are merely opinions, you should always evaluate whatever tools best fit your situation for yourself.